Free download Citrus 2008 Font
Preview and download Citrus 2008 Font. Created by The Space Wanderer in Fancy Cartoon styles with Donationware license.
Note by The Space Wanderer
this font is for you.
if you wish to thank and want to share a donation via paypal.
please send us a note to wiryanata(at)gmail(dot)com

:)
download and use this font for every purpose as you like it.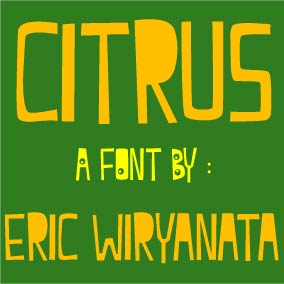 Tags: Citrus 2008, The Space Wanderer, Donationware, Fancy, Cartoon
---
| # | File name | File size |
| --- | --- | --- |
| 1 | CITRUS7_eric_wiryanata_2008.ttf | 38.9KB |
| 2 | citrus_2008_eric_wiryanata.jpg | 44.5KB |
| 3 | citrus_read_first.txt | 1.3KB |
| 4 | CITRUS_thumb.jpg | 44.5KB |