Free download Stinger Font
Preview and download Stinger Font. Created by Zetafonts in Basic Sans serif styles with Free for personal use license.
Note by Zetafonts
The font here is for PERSONAL/NON-COMMERCIAL USE ONLY!

To download the full font family (all weights, glyphs and numbers) and acquire the commercial license please visit our website:
https://www.zetafonts.com/stinger

For more info about our licenses:
https://www.zetafonts.com/licensing

CONTACT US:
website: https://www.zetafonts.com
have a question?: info@zetafonts.com

---

Since their first appearance as italians on the pages of the 1821 William Caslon type specimens, reverse contrast typefaces have been typography's best loved quirky outcasts. Subverting the traditional relationship between thick verticals and thin horizontals made them perfect for eye-catching advertisements. The unexpected contrasts and the thick slabs produced by reverse-contrast serifs became ubiquitous in period posters, and synonymous with wild west and circus iconography.

In designing Stinger, the Zetafonts design team composed by Maria Chiara Fantini, Andrea Tartarelli and Francesco Canovaro and orchestrated by Cosimo Lorenzo Pancini decided to marry this subversive tradition with the workhorse approach of modernist sans serif typefaces like Univers, developing a super-family with four widths, each in five different weights, from thin to heavy. This gives the designer a full range of options for type setting, with the Normal and Fit widths providing two different text-sized alternatives, the wide width adding display and titling options and the Slim ready to deal with the space-saving necessities of extremely long texts. True italics have been added developed for all weights and variants, bringing the Stinger family to a total of 40 fonts, with a latin extended + russian cyrillic character set covering over 200 languages, and open type features including positional numbers, stylistic sets and alternate forms. More...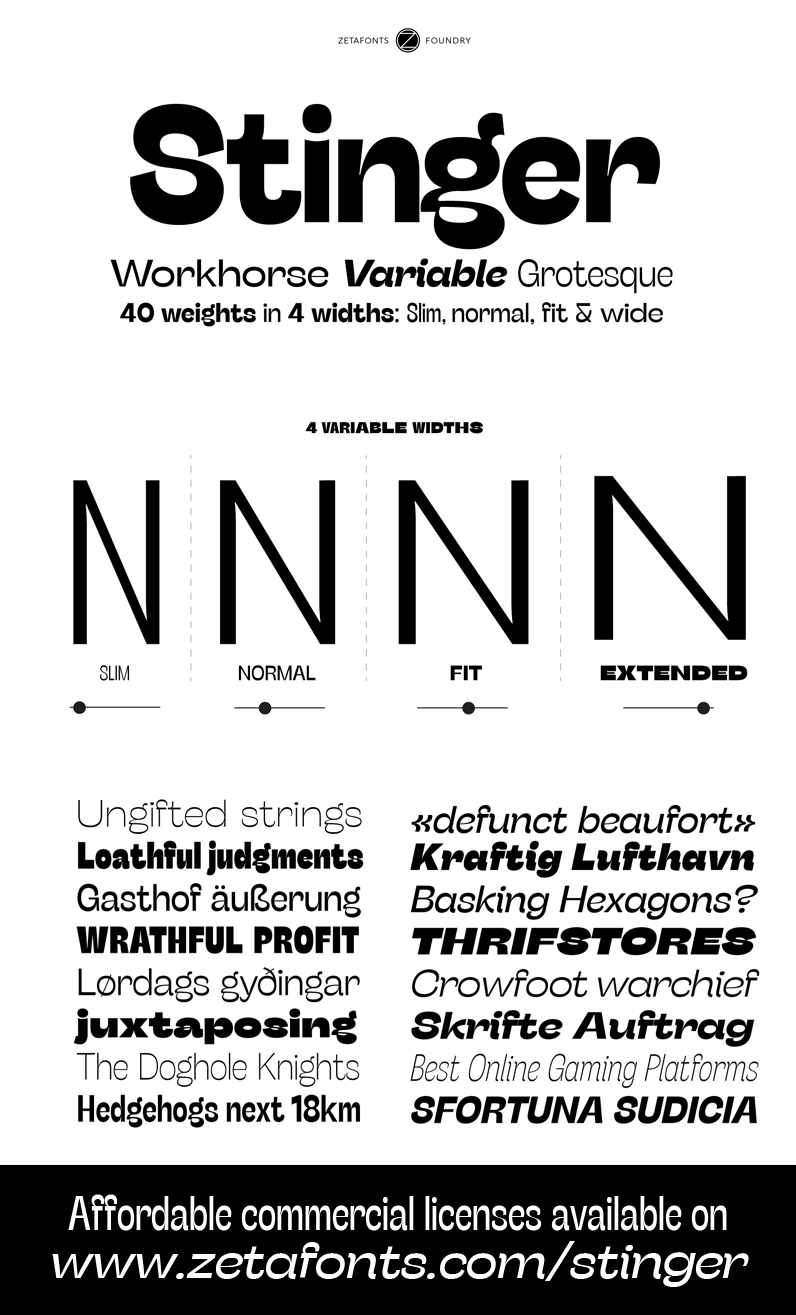 Tags: Stinger, Zetafonts, Free for personal use, Basic, Sans serif, Accents, Euro
---
| # | File name | File size |
| --- | --- | --- |
| 1 | Stinger Family (CC BY-NC)License.pdf | 219KB |
| 2 | stinger.png | 88.7KB |
| 3 | StingerFitTrial-Bold.ttf | 237.4KB |
| 4 | StingerFitTrial-BoldItalic.ttf | 205.4KB |
| 5 | StingerFitTrial-Heavy.ttf | 247.7KB |
| 6 | StingerFitTrial-HeavyItalic.ttf | 213.8KB |
| 7 | StingerFitTrial-Italic.ttf | 200.3KB |
| 8 | StingerFitTrial-Light.ttf | 218.7KB |
| 9 | StingerFitTrial-LightItalic.ttf | 188.4KB |
| 10 | StingerFitTrial-Regular.ttf | 230.2KB |
| 11 | StingerFitTrial-Thin.ttf | 188.4KB |
| 12 | StingerFitTrial-ThinItalic.ttf | 159.5KB |
| 13 | StingerSlimTrial-Bold.ttf | 220.2KB |
| 14 | StingerSlimTrial-BoldItalic.ttf | 188.9KB |
| 15 | StingerSlimTrial-Heavy.ttf | 234.4KB |
| 16 | StingerSlimTrial-HeavyItalic.ttf | 202.7KB |
| 17 | StingerSlimTrial-Italic.ttf | 190.2KB |
| 18 | StingerSlimTrial-Light.ttf | 202.5KB |
| 19 | StingerSlimTrial-LightItalic.ttf | 174.2KB |
| 20 | StingerSlimTrial-Regular.ttf | 220.8KB |
| 21 | StingerSlimTrial-Thin.ttf | 175.8KB |
| 22 | StingerSlimTrial-ThinItalic.ttf | 148.8KB |
| 23 | StingerTrial-Bold.ttf | 237.2KB |
| 24 | StingerTrial-BoldItalic.ttf | 204.6KB |
| 25 | StingerTrial-Heavy.ttf | 242.2KB |
| 26 | StingerTrial-HeavyItalic.ttf | 210.4KB |
| 27 | StingerTrial-Italic.ttf | 190.8KB |
| 28 | StingerTrial-Light.ttf | 201.8KB |
| 29 | StingerTrial-LightItalic.ttf | 169.7KB |
| 30 | StingerTrial-Regular.ttf | 222.6KB |
| 31 | StingerTrial-Thin.ttf | 175KB |
| 32 | StingerTrial-ThinItalic.ttf | 147.1KB |
| 33 | StingerWideTrial-Bold.ttf | 236.9KB |
| 34 | StingerWideTrial-BoldItalic.ttf | 207.1KB |
| 35 | StingerWideTrial-Heavy.ttf | 246.9KB |
| 36 | StingerWideTrial-HeavyItalic.ttf | 213.9KB |
| 37 | StingerWideTrial-Italic.ttf | 185.2KB |
| 38 | StingerWideTrial-Light.ttf | 214.2KB |
| 39 | StingerWideTrial-LightItalic.ttf | 183.5KB |
| 40 | StingerWideTrial-Regular.ttf | 215.1KB |
| 41 | StingerWideTrial-Thin.ttf | 187.3KB |
| 42 | StingerWideTrial-ThinItalic.ttf | 158.4KB |
| 43 | Stinger_by_Zetafonts.png | 203.7KB |
| 44 | Stinger_by_Zetafonts_1.png | 203.7KB |
| 45 | Stinger_by_Zetafonts_2.png | 61.3KB |
| 46 | Stinger_by_Zetafonts_3.png | 42KB |
| 47 | Stinger_by_Zetafonts_4.png | 487.5KB |
| 48 | Stinger_by_Zetafonts_5.png | 1.1MB |
| 49 | Stinger_by_Zetafonts_6.png | 622.9KB |
| 50 | Stinger_by_Zetafonts_7.png | 580.8KB |
| 51 | Stinger_by_Zetafonts_8.png | 376.5KB |
| 52 | Stinger_by_Zetafonts_9.png | 514.3KB |