Free download MB Thin Worms Font
Preview and download MB Thin Worms Font. Created by Irina ModBlackmoon in Fancy Horror styles with 100% Free license.
Note by Irina ModBlackmoon
Spiked, Horror Black Metal Font. Hand-drawing vectorized manually in Photoshop.

Incl. English letters and Numbers, some most common signs, some letters from nordic languages.

Free for personal use. Free for commercial use but written credits are required. No modify.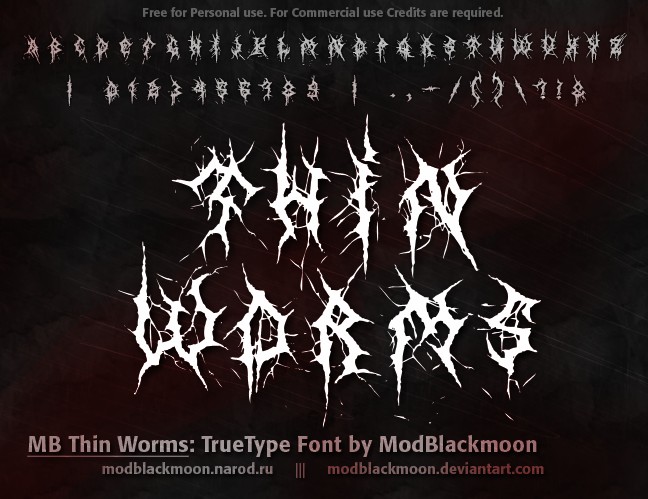 Tags: MB Thin Worms, Irina ModBlackmoon, 100% Free, Fancy, Horror, Accents
---
| # | File name | File size |
| --- | --- | --- |
| 1 | MB-Thin_Worms Readme.txt | 481B |
| 2 | MB-Thin_Worms.ttf | 422KB |
| 3 | MB-Thin_Worms_Preview.jpg | 121.9KB |
| 4 | mb_thin_worms.png | 305KB |