Free download LDR#6 Font
Preview and download LDR#6 Font. Created by Neoqueto in Techno Various styles with 100% Free license.
Note by Neoqueto
LDR#6 or LDR BLADECUT - an another techno font. One guy at FS said: "The improbable meeting between High Tech and Bloody Gore." and I totally agree with him, it was my target to achieve an effect like this. Free, CC-BY-SA(http://creativecommons.org/licenses/by-sa/3.0/legalcode). For commercial or private use.

You're welcome to download.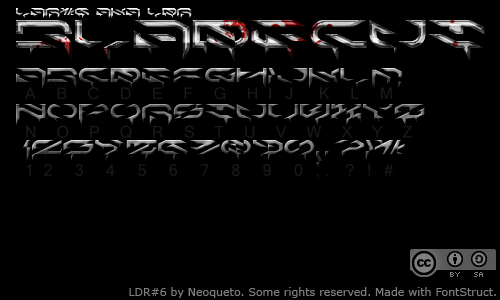 Tags: LDR#6, Neoqueto, 100% Free, Techno, Various
---
| # | File name | File size |
| --- | --- | --- |
| 1 | ldr6.ttf | 21.1KB |
| 2 | ldr_6.png | 44.6KB |
| 3 | license.txt | 231B |
| 4 | read me.txt | 1.3KB |