Free download Lastwaerk Font
Preview and download Lastwaerk Font. Created by Johan Aakerlund in Techno Various styles with 100% Free license.
Note by Johan Aakerlund
Lastwaerk is free for personal/non-commercial use, AND commercial use.

Lastwaerk is licensed under a Creative Commons Attribution-No Derivative Works 3.0 License: http://creativecommons.org/licenses/by-nd/3.0/
This means, that you can share the font as you like, but not make a new version of the font (e.g. a condensed version) and publish it without my permission. Other than that, you are free to use it as you like in any way (mix it with other fonts/ change letters etc. etc.)

If you have any questions or comments, you can write to my email: aajohan@gmail.com
You are also very welcome to show me how you've used the font, as part of the joy creating a font lies in seeing it being used.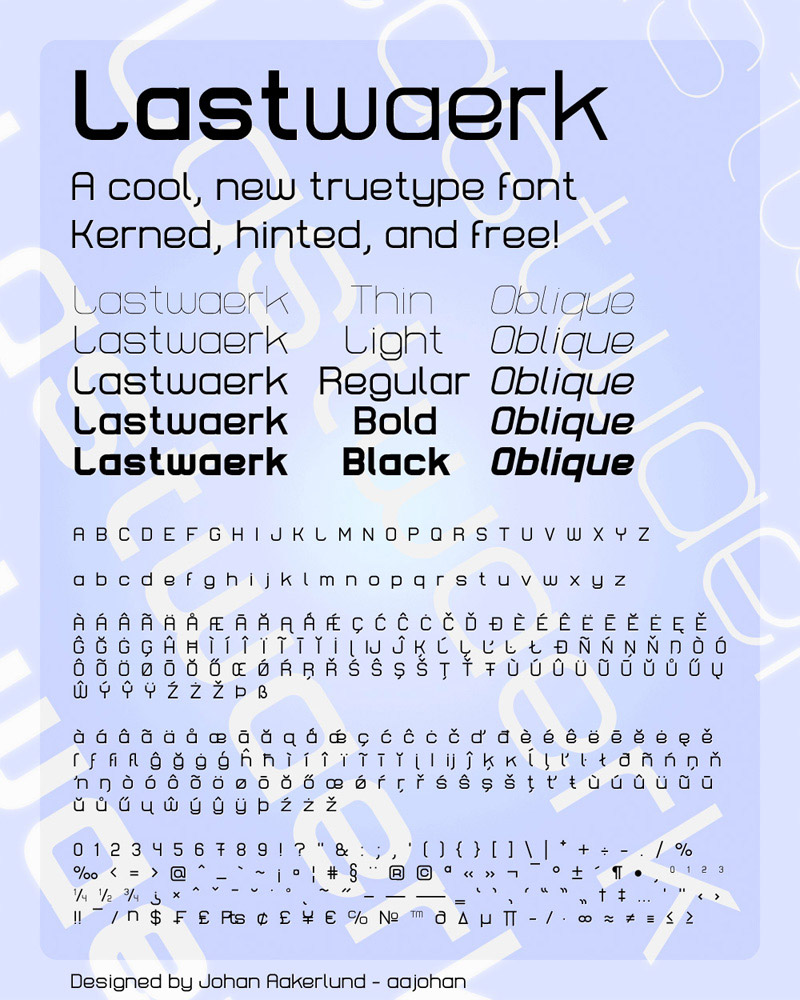 Tags: Lastwaerk, Johan Aakerlund, 100% Free, Techno, Various, Accents, Euro
---
Quick view Lastwaerk font style
Sample charactors Lastwaerk font
| # | File name | File size |
| --- | --- | --- |
| 1 | donate.html | 3.1KB |
| 2 | Lastwaerk black oblique.ttf | 88.7KB |
| 3 | Lastwaerk black.ttf | 89.7KB |
| 4 | Lastwaerk bold oblique.ttf | 99.9KB |
| 5 | Lastwaerk bold.ttf | 92.3KB |
| 6 | Lastwaerk light oblique.ttf | 98.3KB |
| 7 | Lastwaerk light.ttf | 98.1KB |
| 8 | Lastwaerk presentation.jpg | 392.2KB |
| 9 | Lastwaerk regular oblique.ttf | 98.4KB |
| 10 | Lastwaerk regular.ttf | 97.9KB |
| 11 | Lastwaerk thin oblique.ttf | 84.3KB |
| 12 | Lastwaerk thin.ttf | 78.5KB |
| 13 | lastwaerk.jpg | 216.4KB |
| 14 | Please read me.txt | 1.7KB |