Free download Jethose Font
Preview and download Jethose Font. Created by Christian Reiter in Techno Various styles with 100% Free license.
Note by Christian Reiter
jethose © by Agentur Christian Reiter
These fonts are free to anyone who wants to use them, be it for personal or commercial use.
If you do something great with jethose, be sure to let us know.
If you are bored check out http://www.christianreiter.at to find lots of other cool stuff.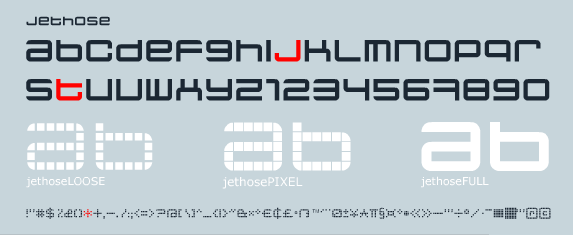 Tags: Jethose, Christian Reiter, 100% Free, Techno, Various, Euro
---
| # | File name | File size |
| --- | --- | --- |
| 1 | jethoseFULL.TTF | 12.2KB |
| 2 | jethoseLOOSE.TTF | 28.4KB |
| 3 | jethosePIXEL.TTF | 28.2KB |
| 4 | jethose_full.png | 15.4KB |
| 5 | readme-license.txt | 2.9KB |