Free download Iron Man Of War 001 NCV Font
Preview and download Iron Man Of War 001 NCV Font. Created by Fontry in Fancy Various styles with Free for personal use license.
Note by Fontry
The commercial version of this font is available for $25 USD at: http://www.thefontry.com/ironmanofwar

If you wish to use IRON MAN OF WAR NCV (non-commercial version) commercially "as downloaded," a $5 Paypal donation is requested. Use the DONATE button on this page or SEND PAYMENT to: the_fontry@yahoo.com

Get ready to experience four ferrous versions of an industrialistic face that will leave your graphics anchored in place and armored up for war. Replete with buckets of rivets and powerful angles, the IMOW font family will help you lock down a layout in ways regular typefaces can't match. Your designs will experience an invincibility rarely seen as you choose between plain or permanently bolted in place. Which one will be the primary weapon in your arsenal? All certainly have the power to handle any task put to them. So which will you choose to suit up and enter the fray with?

Style-menu based LAYERING EFFECTS are only available in the commercial version of the IMOW font family.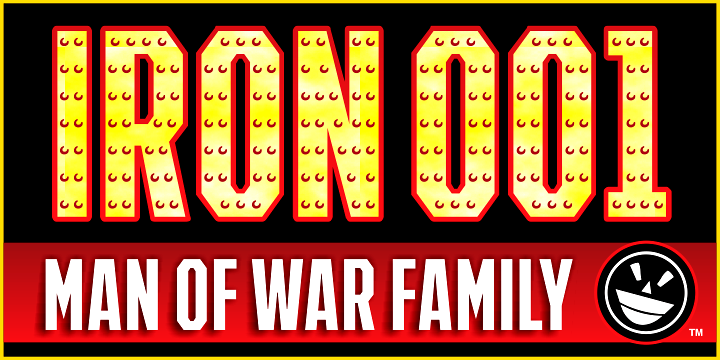 Tags: Iron Man Of War 001 NCV, Fontry, Free for personal use, Fancy, Various, Accents, Euro
---
| # | File name | File size |
| --- | --- | --- |
| 1 | IRON MAN OF WAR 001A NCV.ttf | 618.4KB |
| 2 | IRON MAN OF WAR 001B NCV.ttf | 615.1KB |
| 3 | IRON MAN OF WAR 001C NCV.ttf | 99.4KB |
| 4 | iron_man_of_war_001_ncv.png | 135.5KB |
| 5 | PersonalUseEULA_IMOW_NCV.txt | 3.2KB |