Free download FTY Skorzhen NCV Font
Preview and download FTY Skorzhen NCV Font. Created by Fontry in Fancy Retro styles with Free for personal use license.
Note by Fontry
The commercial version of FTY SKORZHEN is available at: http://thefontry.com/skorzhen

At one time very recently, serifs were lost to the design sinners of the world. Now see them found again. Unearthed and rediscovered. Retribution is not far off. We have been unchained from the belief that gothics have provided us no way back from a lack of variety and interest. Spur serifs have re-emerged.

The commercial version of FTY SKORZHEN comes with a complete lowercase range of characters rather than the duplicated uppercase range applied to the lowercase keys as typically provided in the freeware version of The Fontry's fonts. Secure payment and immediate download is provided by Paypal and Payloadz.

If you wish to use the freeware version of FTY SKORZHEN "as-downloaded" from dafont for commercial purposes, please donate $5 US to PayPal using the DONATE button on this page.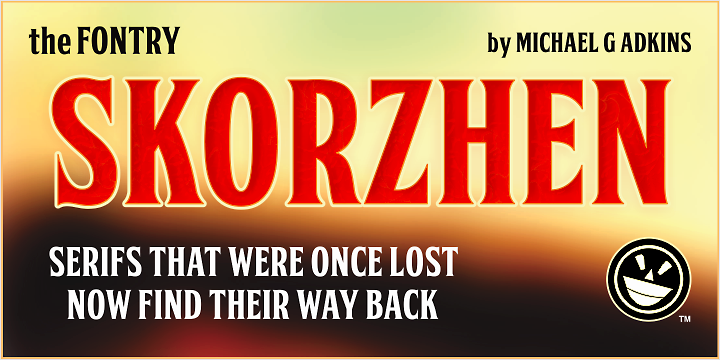 Tags: FTY Skorzhen NCV, Fontry, Free for personal use, Fancy, Retro, Accents, Euro
---
| # | File name | File size |
| --- | --- | --- |
| 1 | FTY SKORZHEN NCV.otf | 61.4KB |
| 2 | FTY SKORZHEN NCV.ttf | 123.4KB |
| 3 | fty_skorzhen_ncv.png | 200.4KB |
| 4 | PersonalUseEULA_skorzhen_NCV.txt | 3.2KB |