Free download Dig Dug Font
Preview and download Dig Dug Font. Created by SpideRaYsfoNtS in Fancy Various styles with Free for personal use license.
Note by SpideRaYsfoNtS
Loved this game on the Atari always wanted to create a font based on the name and a variation of all the different ways that it has been realized since its arcade debut. So far I have created only uppercase letters and a few bonus glyphs, please enjoy there are more to come...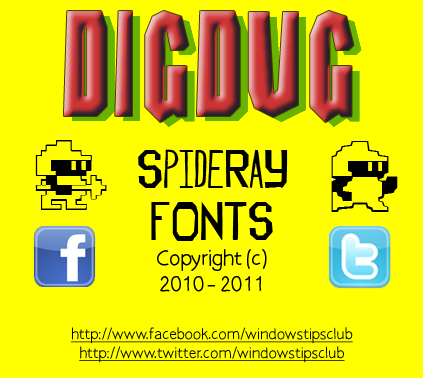 Tags: Dig Dug, SpideRaYsfoNtS, Free for personal use, Fancy, Various
---
| # | File name | File size |
| --- | --- | --- |
| 1 | DIG DUG.png | 32.2KB |
| 2 | DIG DUG.ttf | 44.6KB |
| 3 | dig_dug.png | 32.2KB |
| 4 | License - READ THIS.txt | 678B |