Free download Cactron Font
Preview and download Cactron Font. Created by Nacahua in Fancy Various styles with Public domain / GPL / OFL license.
Note by Nacahua
Inspired by city nights and neon lights, Cactron is a Sans-serif typeface family, showing mostly roundness and curves in its angles, while maintaining consistent strokes in almost a modular way.

Cactron has enough diacritics and special letters to support English, Spanish, French, Portuguese, German and Italian.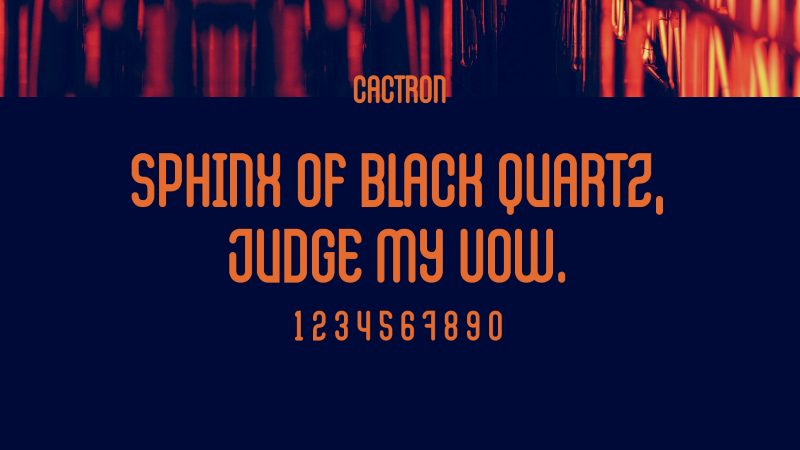 Tags: Cactron, Nacahua, Public domain / GPL / OFL, Fancy, Various, Accents, Euro
---
| # | File name | File size |
| --- | --- | --- |
| 1 | About Cactron (Read me first!).txt | 302B |
| 2 | Cactron (Sample).png | 349.6KB |
| 3 | Cactron-Bold-Italic.otf | 70.7KB |
| 4 | Cactron-Italic.otf | 65.6KB |
| 5 | Cactron-Regular.otf | 61KB |
| 6 | cactron.png | 126KB |
| 7 | CactronBold.otf | 59.1KB |
| 8 | FONTLOG for Cactron.txt | 1KB |
| 9 | OFL-FAQ.txt | 57.6KB |